Value Chain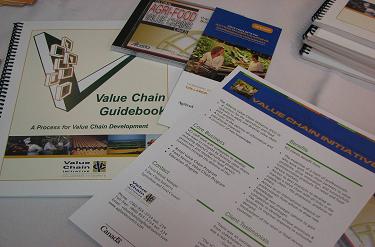 Alberta Agriculture and Forestry's new, easy to use website for livestock producers. Access relevant information, tools and case studies from around the world that will assist you to develop your business's value chain.

This site includes over 300 resources about value chains in the agriculture and food sector. They have been selected for their relevance and usefulness.



What is a value chain?

Value chains are a network of independent businesses (producers, processors, distributors and retailers/food service operators) whom recognize their mutual need for one another and who engage in collaborative relationships to facilitate the effective flow of products and services to meet a specific market opportunity.

They work together to attain benefit for the chain as a whole.

strategic objectives,
improve the flow of information,
make decisions on effective investment and allocation of time, energy and resources,
share in risks and
value add to their products or services.

Value chains can only be sustainable if chain's members are in tune with and responsive to the needs of their customers, the wants of final consumers and the complex interaction between what they do, how they do it and the natural environment within which they operate.

This business strategy is found in several sectors , such as within the IT, Auto and the agriculture and food industries.

Have any suggestions to improve our website? Any questions or comments? Feel free to let us know!
Offer Feedback


Additional information is also available on the Value Chain Home Page.
Disclaimer:
Neither Alberta Agriculture and Forestry nor any of its employees assume any legal liability or responsibility for the accuracy, completeness or usefulness of the information in this directory. Inclusion in this directory is not an endorsement by Alberta Agriculture and Forestry. The business contact information published in the directory will only be used for this purpose or for a consistent purpose. Any personal information is collected under the authority of the Alberta Freedom of Information and Protection of Privacy (FOIP) Act.