Alberta Irrigation Management Model Climate Files
Brought to you by the Alberta Climate Information Service (ACIS)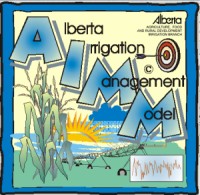 Daily data from April to October unless otherwise noted.
All AIMM data files are in CSV text format. To download or save a file to your desktop open the file in your browser and then save it to your system.
To download AIMM climate files for stations and/or years not provided by ACIS, please click here.
Ardenville AGCM

2019

2018

2017

2016

2015

2014

2013
Barnwell AGDM

2019

2018

2017

2016

2015

2014

2013

2012

2011

2010

2009

2008

2007

2006

2005
Barons AGCM

2019

2018

2017

2016

2015

2014

2013

2012

2011

2010

2009

2008

2007
Blood Tribe Ag. Project IMCIN

2019

2018

2017

2016

2015

2014

2013

2012

2011

2010

2009

2008

2007

2006

2005
Bow Island

2019

2018

2017

2016

2015

2014

2013

2012

2011

2010

2009

2008

2007

2006

2005
Bow Island North IMCIN

2019

2018

2017

2016

2015

2014

2013

2012

2011

2010

2009

2008

2007

2006

2005
Brocket AGDM

2019

2018

2017

2016

2015

2014

2013

2012

2011

2010

2009

2008

2007

2006

2005
Brooks

2019

2018

2017

2016

2015

2014

2013

2012

2011

2010

2009

2008

2007

2006

2005
Del Bonita AGDM

2019

2018

2017

2016

2015

2014

2013

2012

2011

2010

2009

2008

2007

2006

2005
Enchant IMCIN

2019

2018

2017

2016

2015

2014

2013

2012

2011

2010

2009

2008

2007

2006

2005
Fincastle IMCIN

2019

2018

2017

2016

2015

2014

2013

2012

2011

2010

2009

2008

2007

2006

2005
Fort Macleod AGCM

2019

2018

2017

2016

2015

2014

2013

2012

2011

2010

2009

2008

2007
Grassy Lake IMCIN

2019

2018

2017

2016

2015

2014

2013

2012

2011

2010

2009

2008

2007
Hussar AGDM

2019

2018

2017

2016

2015

2014

2013

2012

2011

2010

2009

2008

2007

2006

2005
Iron Springs IMCIN

2019

2018

2017

2016

2015

2014

2013

2012

2011

2010

2009

2008

2007

2006

2005
Lathom AGCM

2019

2018

2017

2016

2015

2014

2013

2012
Lethbridge Demo Farm IMCIN

2019

2018

2017

2016

2015

2014

2013

2012

2011

2010

2009

2008

2007

2006

2005
Manyberries AGCM

2019

2018

2017

2016

2015

2014

2013

2012

2011

2010

2009

2008

2007
Masinasin AGDM

2019

2018

2017

2016

2015

2014

2013

2012

2011

2010

2009

2008

2007

2006

2005
Medicine Hat RCS

2019

2018

2017

2016

2015

2014

2013

2012

2011

2010

2009

2008

2007

2006

2005
Milk River

2019

2018

2017

2016

2015

2014

2013

2012

2011

2010

2009

2008

2007

2006

2005
Patricia AGCM

2019

2018

2017

2016

2015

2014

2013

2012
Rainier AGCM

2019

2018

2017

2016

2015

2014
Raymond IMCIN

2019

2018

2017

2016

2015

2014

2013

2012

2011

2010

2009

2008

2007

2006

2005
Rolling Hills AGCM

2019

2018

2017

2016

2015

2014

2013

2012

2011

2010

2009

2008

2007
Rosemary IMCIN

2019

2018

2017

2016

2015

2014

2013

2012

2011

2010

2009

2008

2007

2006

2005
Seven Persons IMCIN

2019

2018

2017

2016

2015

2014

2013

2012

2011

2010

2009

2008

2007

2006

2005
Strathmore IMCIN

2019

2018

2017

2016

2015

2014

2013

2012

2011

2010

2009

2008

2007

2006

2005
Travers AGCM

2019

2018

2017

2016

2015

2014

2013

2012

2011

2010

2009

2008

2007
Vauxhall CDA CS

2019

2018

2017

2016

2015

2014

2013

2012

2011

2010

2009

2008

2007

2006

2005
Verger AGCM

2019

2018

2017

2016

2015

2014