Green Certificate Employment Directory Listings
Welcome to the Green Certificate Employment Directory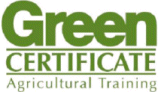 Whether you are hiring, job-seeking or interested in the Green Certificate training process, this free directory brings together the information you need.
Using the left-hand navigation bar, you can post job listings, browse current jobs, view available workers or indicate an interest in training. This directory is open to everyone hiring for, or seeking, an agriculture-related job.
Read the Getting Started Guide to learn how to easily start your search for the right employee, employer or training opportunity. Additional help is available by contacting the administrator.
To have a posting removed, e-mail gced@gov.ab.ca
The Alberta Green Certificate is an apprenticeship-style training program. Trainees work with knowledgeable trainers to develop relevant skills for their specialty: beekeeping, cow-calf, dairy, equine, feedlot, field crop, irrigated crop, sheep and swine. Questions about training or how to become involved in the Green Certificate program can be directed to your Regional Coordinator.
Questions about the collection of this information and how it is stored may be directed to:
Lindsay Rodriguez
Telephone: 780-427-4187
e-mail: lindsay.rodriguez@gov.ab.ca
Employers: If you decide to also share your posting with the Federal Government of Canada's Job Bank, they require a 15 digit Canada Revenue Agency (CRA) Business Number indicating you have a payroll deductions account.
Privacy Statement
The contact information and other information that you provide to create a listing on the Green Certificate Employment Directory will be used to publish a web-based directory of employment and training opportunities and requests. Any personal information that we ask you to provide is collected under the authority of the
Alberta Freedom of Information and Protection of Privacy (FOIP) Act
.
The information you provide us is used only for the purpose it was collected or for a consistent purpose. Further, we keep the information only for the length of time necessary to fulfill the purpose for which it was collected.