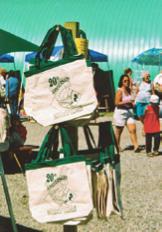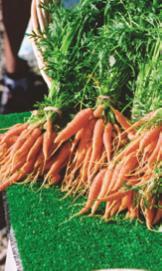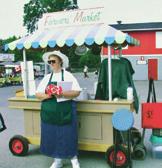 11
to arrive at the market before the
rush. Remember, these consumers
trust you to put the very best in their
bag. If you exceed their expectations,
you may find more people ordering
Have all your staff wear identical
t-shirts
, preferably with the farm
name and logo. Give each staff
member two t-shirts so they always
have a clean shirt for market. It is also
a good policy to have staff wear a
TIP: T-shirt suppliers often charge
a set-up fee of $25 for each colour
in a logo and require camera-ready
art work of your logo. An additional
$75 set-up fee is charged to actually
print the shirts, regardless of the size
of the print run. Most apparel supply
companies have websites listing their
prices both with and without a logo.
Purchase bags
customers' purchases. Plastic bags
printed with your logo usually add
about half a cent onto the price of a
bag. Or consider purchasing cloth
bags. As with t-shirts, suppliers
charge set-up fees to put your logo on
Business cards
inexpensive (less than $150 for the
first 1,000 and much less for the
next 1,000). If you are handy on
a computer, you can buy sheets
containing 10 empty business cards
and simply print your own.
Become well known
community where you sell. Volunteer
at community events. Whenever
possible, have your name displayed
discreetly for everyone to see;
people will notice. If they buy at the
market, they are more likely to buy
from someone who is helping their
Keep in mind that it takes time to build
up a loyal clientele at the farmers'
market, but with great displays and
unique, quality products, you will in
It is very important to have liability
insurance coverage. Ask your
insurance agent about rates they can
offer. Contact the Alberta Farmers'
Market Association (AFMA) by phone
at 1-866-754-2362 or e-mail info@
albertamarkets.com for other options.
AFMA members are eligible to apply
for insurance through their group
Details are available from the Alberta
Farmers' Market Association website.
Go to www.albertamarkets.com/ and
click on the "members" tab.
Unfortunately, some farmers
selling directly to consumers have
experienced theft from employees.
One police study says that 50 per
cent of employees will steal, if given
If you are using aprons to collect cash
from consumers, you need a tracking
system for your sales. Tracking is
even more important if you stay at the
farm and send employees to sell at
The easiest system requires you to
take an inventory when you load the
truck going to market and take an
inventory again when you unload
at the end of the market day. If you