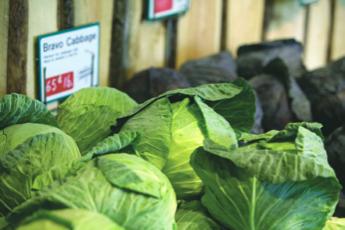 15
Dynamic Farmers' Marketing: A Guide
to Successfully Selling Your Farmers'
Market Products. By Ishee, Jeff, 1997.
Publisher ― Bittersweet Farmstead.
Sharing the Harvest: How to Build
Farmers' Markets and How Farmers'
Markets Build Community. By Colihan,
Mary Ann and Chorney, Robert, 2004.
Growing For Market is a monthly
magazine published in Lawrence
Kansas. Their website also sells
books on marketing and organic
farming http://www.growingformarket.
Websites
Alberta Agriculture and Rural
• Alberta Approved Farmers' Markets
interactive map shows all the
approved farmers' markets in
Alberta. To go to the resources
section of the website, click
on Learn More About Alberta
Approved Farmers' Markets at the
bottom of the map. The resources
section contains information on the
Alberta Approved Farmers' Market
program as well as resources
• The Explore Local website
contains information on farm direct
marketing, farmers' markets, selling
to restaurants, food safety, etc. that
may be of value to farmers' market
vendors. www.explorelocal.ca
Alberta Farmers' Market Association:
http://www.albertamarkets.com/
Innisfail Growers – five farm families
who co-operatively market their
products at 23 farmers' markets
in central Alberta: http://www.
innisfailgrowers.com/index.htm
Information on selling at a farmers'
market, University of New Hampshire:
http://extension.unh.edu/pubs/
Production Information
Sources
For small fruit production information
and vegetable factsheets, go to
www.agriculture.alberta.ca, click
on Information and choose desired
NCAT Sustainable Agriculture
Project ― U.S. site with a wealth of
information on small scale organic
production of horticultural crops, field
crops and livestock: http://www.attra.
Market Gardening ― A Start-up
Guide: http://attra.ncat.org/attra-pub/
summaries/marketgardening.html
Keys to Success in Value Added
Agriculture for a farm wishing to
diversify: http://attra.ncat.org/attra-
Commercial vegetable production
guides, Oregon State University:
http://hort-devel-nwrec.hort.
oregonstate.edu/vegindex.html
Vegetable varieties for market
gardeners, Oregon State University.
Note the four climatic zones at the
bottom of the webpage. Variety
selection is based on these growing
regions: http://hort-devel-nwrec.hort.
oregonstate.edu/gardenlist.html
Project Green Leaf ― Information on
farmers' markets from the University
of North Carolina: http://greenleaf.
uncg.edu/farmermarkets_farmers.html
West Virginia Small Farm Center
http://smallfarmcenter.ext.wvu/
Farm Direct Sales – Know the
Regulations: http://www1.agric.gov.
ab.ca/$Department/deptdocs.nsf/all/
Alberta Approved Farmers' Market
Program Guidelines outline
the framework under which
farmers' markets are formed and
operated: http://www1.agric.gov.
ab.ca/$department/deptdocs.nsf/all/