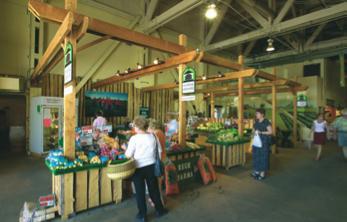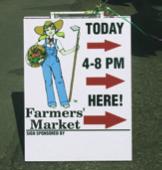 2
as varied as your imagination. Some
• preserves (jams, pickles, etc.)
• baked goods (breads, cookies,
• crafts (wooden toys, wreaths made
from sheaves of grain, painted
pumpkins, home made soaps, etc.)
• herbs (herbal teas, fresh cut and
dried herbs, herb window planters,
There are also value-added animal
byproducts (wool items, animal skins,
goose down, etc.). Typical primary
products found at markets include
fresh fruits and vegetables, meat,
fish, eggs, flowers (fresh cut and dried
flowers, bedding plants), and nursery
Often, the easy part of selling at a
farmers' market is growing or raising
the products. The challenge comes
when you go to market them at a
Check Out Several
Farmers' Markets
Start by going to farmers' markets that
are close enough to your farm so they
are practical for you to attend. The
bigger the potential sales at a market,
the farther you can justify driving. But
remember, time is money. It costs
about $0.55/km to drive a pickup
truck these days (with gas at $1/
litre). So, if you drive 100 kilometers
to the farmers' market and 100
kilometers home, that is $110 for gas,
depreciation and repairs, etc.
Income
Gross sales $1,100 (total
Margin = $600/$1,100 = 55%
(gross profit/gross sales)
Expenses
Transportation $110 (the 100
Example Income and
Expenses at a Farmers'
Market